In recent years our annual Christmas Letter has become a pictorial sharing of our travel adventures.
Follow the links to .pdf files for viewing and/or downloading.
We suggest that you enlarge to about 150% for maximum enjoyment of the photos.
If you want to print it, use legal sized paper.
Use your back arrow to return to our webpage.

Nova Scotia in 2020
Link to .pdf file of Nova Scotia Flowers and Foliage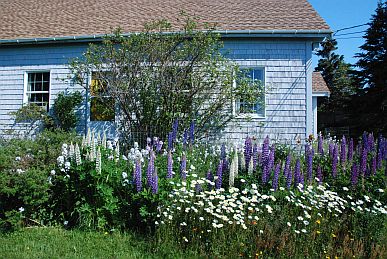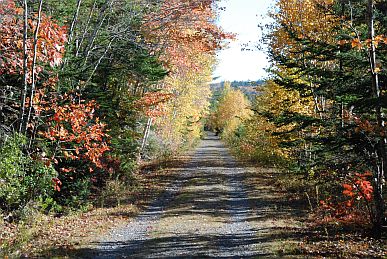 Late June Dame's Rocket and Lupin in Lawrencetown October Hike and Musquodoboit River to Gibraltar Rock
Travels in 2019
Link to .pdf file of Welch Travels in Virginia, Georgia, and Nova Scotia
During 2019 we made three trips and attended various 50th events.
1) CALLERLAB in Richmond, Virginia and driving the Blue Ridge Parkway
2) Atlanta, Georgia for the US National Square Dance Convention and visit with cousins
3) Driving the Eastern Shore of Nova Scotia to Canso.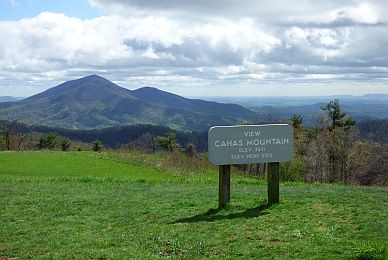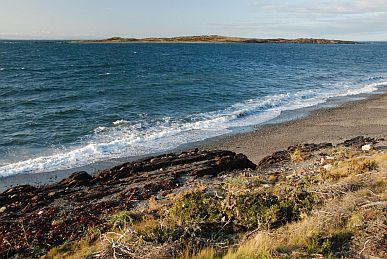 View of Cahas Mountain from Blue Ridge Parkway,VA View of Fox Bay from See Breeze Campground, NS

Travels in 2018
Link to .pdf file of Welch Travels Northeast of Albuquerque
In late March of 2018 we made a short loop trip out of Albuquerque, New Mexico after the Callerlab Convention.
This was a spectacular trip north through Santa Fe and Taos to a B & B on a Goji Berry farm.
A day driving the Enchanted Circle, another day exploring Rio Grande Del Norte Park,
then back to Albuquerque via Los Alamos and the Jamez River Canyon.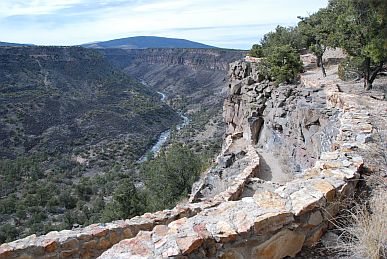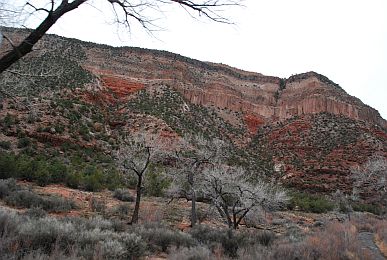 Big Arsenic Springs Trail in Rio Grande del Norte Red sandstone of the Jemez River Canyon
Travels in 2016
In the summer of 2016 we made a second three-month trip across the United States, north to Alaska and home across Canada.
Having taken more than 10,000 photos, we have decided to share this in four or more parts.
The sorting is still in progress, but here are the first three parts.

Link to .pdf file of Welch Travels 2016 Part One
West across the United States including attending two square dance conventions,
visiting the Badlands and the Black Hills of South Dakota,
looping the Devil's Tower and crossing the Big Horn Mountains in Wyoming,
and exploring Glacier-Waterton International Peace Park in Montana and southern Alberta.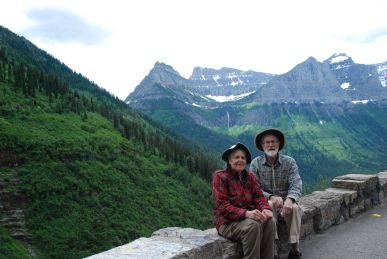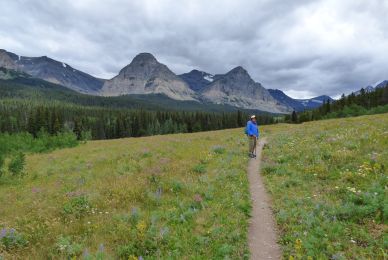 D. & G. at Bird Woman Falls view on Going-to-the-Sun Road D. amid wildflowers along Pitamakan Pass Trail in Glacier

Link to .pdf file of Welch Travels 2016 Part Two
North up the Canadian Rockies, northwest through Prince George and Hudson Hope to the Alaska Highway,
northwest to Whitehorse, flying to the Canadian National Festival in Regina,
from Whitehorse north to Alaska, south on the Glenn Highway, and driving the McCarthy Road.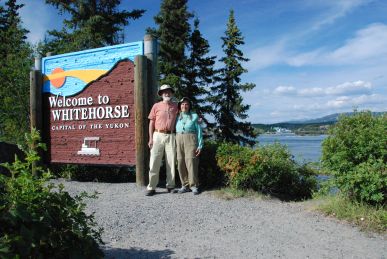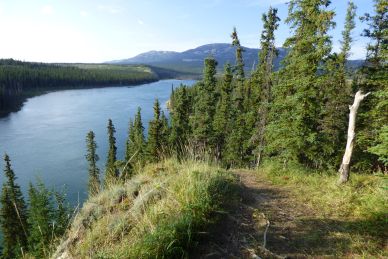 G. & D. at Welcome to Whitehorse sign Wolf Creek Trail along Yukon River

Link to .pdf file of Welch Travels 2016 Part Three
North on the Richardson Highway to the Denali Highway, East as far as the Susitna River,
on north to Delta Junction then over the Top of the World Highway to Dawson City.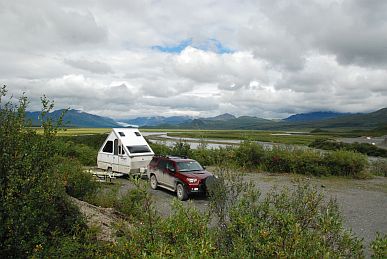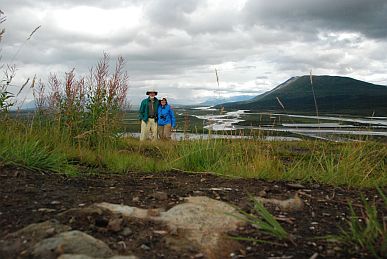 Denali Highway camp on Maclaren River flowing from glacier G. & D. at overlook of Susitna River Headwaters in Alaska Range

Travels in 2015
Link to .pdf file of Welch Travels 2015
Callerlab in Springfield, Missouri; Wilson Creek Battlefield; Laura Ingalls Wilder Home; Bennett Spring
North Shore of the Saint Lawrence River from Saint Siméon to Kegaska
South Shore of the Saint Lawrence River from Matane east
Gaspésie National Park, Quebec
Mount Carleton Provincial Park, New Brunswick
Joggins Fossil Cliffs, Nova Scotia
Near Sacramento, California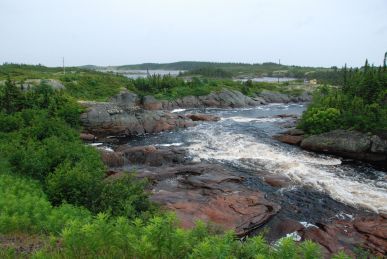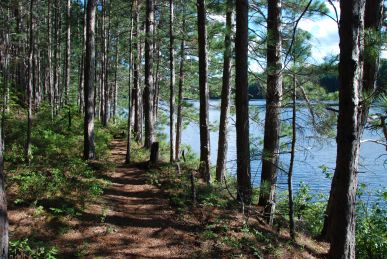 North of Saint Lawrence - Kegaska River, Quebec Pine Point Trail, Mount Carleton, New Brunswick

Travels in 2014
Link to .pdf file of Welch Travels 2014
Callerlab in Reno; Lake Tahoe; Mono Lake; Virginia City
US National in Little Rock, Arkansas; Buffalo River
Canadian National in Ottawa, Ontario;
Camping north of the Saint Lawrence River from Ottawa to the Saguenay River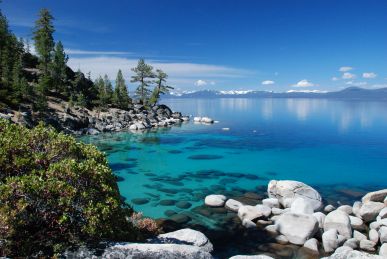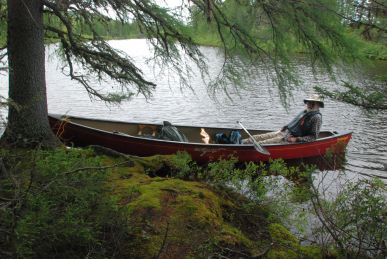 View southwest at Lake Tahoe State Park, Nevada Near Lac Arthabaska, Grands Jardins, Quebec

Travels in 2013
Link to .pdf file of Welch Travels 2013
Callerlab in Raleigh, North Carolina; Outer Banks -- Cape Hatteras and Wright Brothers
US National in Oklahoma City; Witchita Mountains in Oklahoma
Kouchibouguac National Park, New Brunswick
Musquodoboit River, Nova Scotia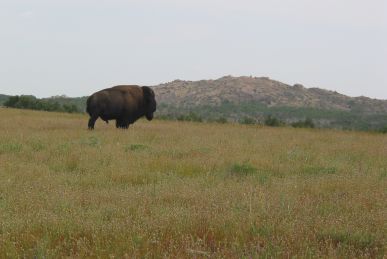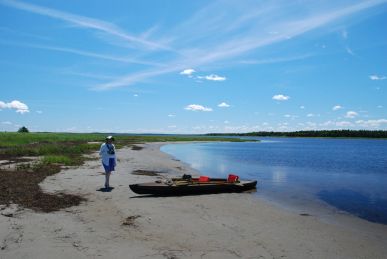 Witchita Mountains, Oklahoma Kouchibouguac, New Brunswick

Travels in 2012
Link to .pdf file of Welch Travels 2012
Callerlab in Nashville, Tennessee; drove the Natchez Trace
Camping west across the United States via Rocky Mountains and Dinosaur
North across British Columbia via Bella Coola and Cassiar Highway
Explored Alaska to Haines, Valdez, Kenai, Denali, Steese Highway, and Eagle
Top of the World Highway to Dawson City, part way up the Dempster Highway, south on Alcan Highway
Return across Canada via the Woods and Water Route, Prince Albert and Riding Mountain National Parks
North of Lake Superior, Labor Day in La Verendrye, and home through Adirondacks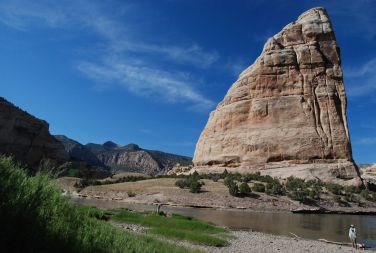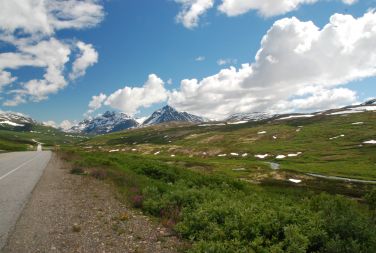 Steamboat Rock, Dinosaur National Park, Colorado Three Guardsmen on the road to Haines, Alaska

Travels in 2011
Link to .pdf file of
Utah & Alberta 2011

Callerlab in Las Vegas and exploring Zion, Bryce, and Capital Reef National Parks in Utah
Cobscook Bay in Maine and Campobello Island in New Brunswick
Jasper and Maligne Lake in Alberta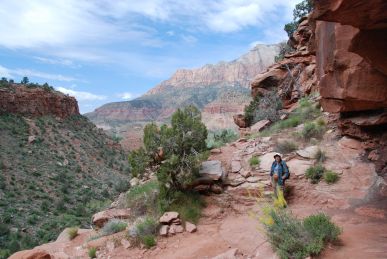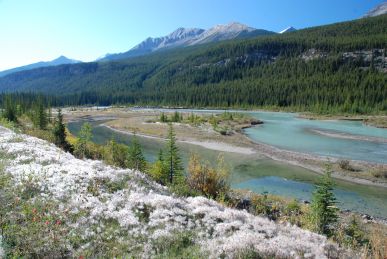 Watchman Trail in Zion National Park, Utah Athabasca River along Icefield Parkway, Alberta
Travels in 2008
Link to .pdf file of
Death Valley, Ontario & Quebec 2008

Callerlab in Los Angeles and exploring Death Valley
Camping to London, Ontario for Canadian National
North to Bruce Peninsula and Manitoulin Island
East across Ontario and Quebec via Algonquin, Gatineau, Mount Tremblant, La Maurice, and Jacques Cartier Parks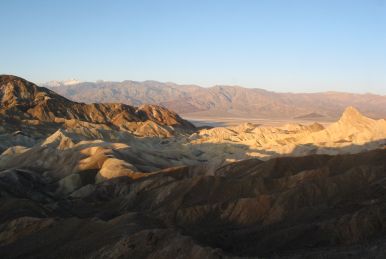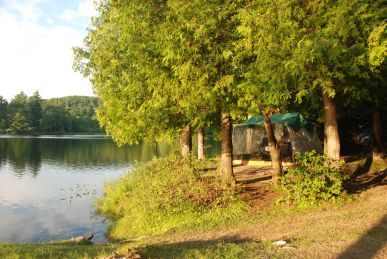 Easter Sunrise at Zabriskie Point in Death Valley Lake Taylor Campsite in Gatineau Park, Quebec
Travels in 2007
Link to .pdf file of Rafting Tatshinshini 2007
Rafted the Tatshinshini and Alsek Rivers from Dalton Post to Dry Bay