Lake City Swingers
It's a fantastic, fun-filled, four-sided frolic.
There's music and dancing to set your toes tapping.
Put on your dancing shoes and come try it!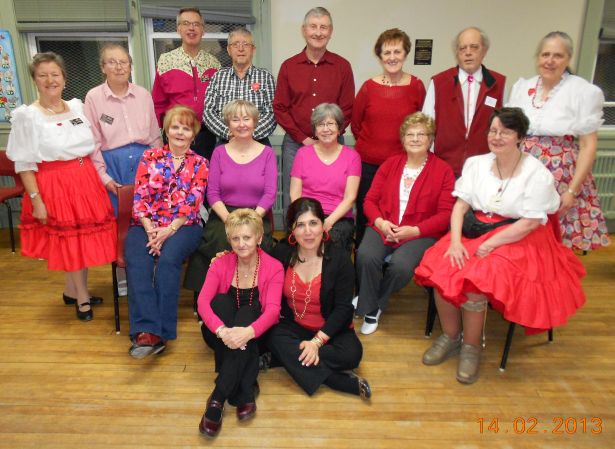 Add Fun, Fitness and Friendship to your life.
Set aside problems and forget world strife.
Music and Action helps Relax and Revive.
Achieving team success leaves you satisfied.
Dance worldwide to the same calls and cues.
There is a world of happiness waiting for you.

Fitness:
Two or more hours per week of constant but not too strenuous exercise.
It's equivalent to walking about five kilometers with added mental stimulation.
If you can walk, you can Square Dance.

Fellowship:
Dancers come from all kinds of backgrounds.
They are brought together by their love of music and the synchronized action.

Fun:
Come and experience this joyous recreation.
Many square, contra and round dancers develop a life long passion for the activity.


Lake City Swingers Details
Lake City Swingers is an entry level modern square dance club.
We teach beginners and dance the Basic and Mainstream lists.
Most evenings also include a Circle Mixer, Contra Dance or Traditional Square Dance.

New Season Beginning -- New Dancers Welcome!
Thursday, September 28 at 7:00 pm and Thursday, October 5 at 1:30 pm

Later in the season, new dancers are welcome to visit any dance event
and should expect to participate in some dances.


Regular Weekly Dances of Lake City Swingers
Regular Dances of Lake City Swingers are held weekly from late Steptember to mid May
First, Third and Fifth Thursday afternoons each month from 1:30 to 3:30 p.m.
Second and Fourth Thursday evenings each month from 7:00 to 9:00 p.m.
Room 1 at North Woodside Community Centre, 230 Pleasant Street, Dartmouth
Couples and Singles Welcome, $6/person/evening
Casual attire, but please wear shoes appropriate for dancing.

Information: Dottie at 902-435-4544,
or dwelch@eastlink.ca

Theme Dances -- Music, Attire, and Lunch
Halloween: Thursday, October 26, 2023, 7 pm
Christmas: Thursday, December 14, 2023, 7 pm
Valentine's: Thursday, February 08, 2024, 7 pm
Saint Patrick's: Thursday, March 14, 2024, 7 pm
= = = = = = = = = = = = = = = = = = = = = = = = = = = =

Winter and Spring 2024 Details
Starting after Christmas on January 4, 2024
Closing for the Summer on May 16, 2024

Lake City Swingers Club History
The Lake City Swingers began dancing on Tuesdays in 1982.
The caller was Stuart and Debbie Brink from 1982 until February of 1989 when Stu left for a job promotion to Ottawa.
Gerry and Bev O'Hara took over the calling and cueing from 1989 to 1991.
During this time Gerry was working on the construction of the new Grace Hospital.
When Gerry returned to New Brunswick, Dottie Welch took over and the dance night was changed to Thursday.
Dottie has been calling for the club since the fall of 1991.
We danced at several locations in Dartmouth before moving to North Woodside Community Centre in the fall of 2000.