Contra Time Dancers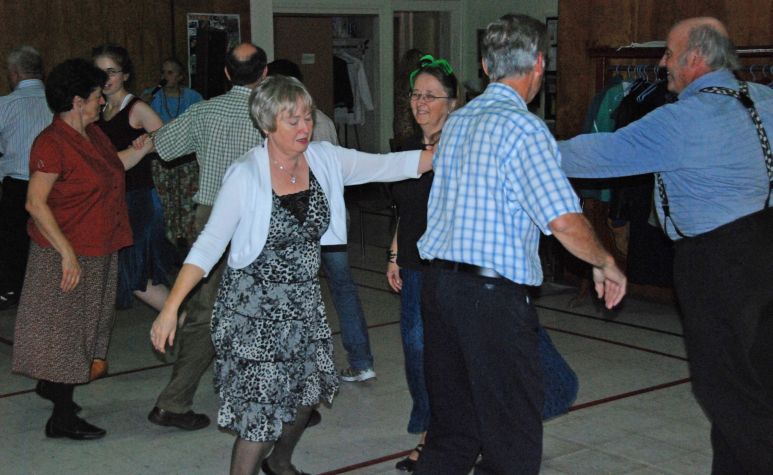 "It's Contra Time, find your partner and form long lines."
Contra Time Dancers Schedule
Come enjoy contras and related dances with us on one Saturday evening per month from 8:00-10:30 p.m.

Dances scheduled for the Fall of 2019 are on the following Saturdays:
October 5, November 2 and November 30, 2019
Dances scheduled for the Winter of 2020 are on the following Saturdays:
January 4, February 1, March 7
Due to COVID-19 restrictions effective 15 March 2020, all dancing canceled until further notice.
Dances scheduled for the spring of 2020 are on the following Saturdays:
March 28, May 2, June 6

Location is: Evangelical Lutheran Church, 2096 Windsor Street, Halifax
The church is on the corner of Windsor and Allan Street about one block north of Quinpool.
Live music ususally provided by Joe Pratt and Skip Holmes, Prompter is Dottie Welch
Instruction as needed, new dancers welcome, Admission $10 per person

In the case of inclement weather, please check the website or call us to ensure that the dance has not been cancelled.
Contact: Dottie & Gary Welch, 415 Conrad Road, Lawrencetown, Halifax County, NS, B2Z 1S3
(902) 435-4544 or dwelch@eastlink.ca


Contra Time Dancers Roots and History
Dottie's Story: New England Roots and Contras in the Square Dance World


The evolution of contra dancing in Nova Scotia is a typical example of the strong connections between Nova Scotia and New England. In 1943 Ralph Page began leading a weekly square and contra dance evening at the Y.W.C.A. in Boston, Massachusetts. This was partly a wartime effort to provide recreation for sailors and soldiers off the ships. Among those helping to teach the dancers were Bob Kinraide and Dottie Dickson. After the dance they would take Ralph for fruit and ice cream before he caught the milk train at 4 a.m. back to Keene, New Hampshire. Bob and Dottie Kinraide were my parents, so I have wonderful memories of Appalachian Mountain Club ski weekends at Cardigan Lodge in New Hampshire that included a Saturday evening square and contra dance. At least once Dud Briggs played his accordion and called. In later years my parents danced in Massachusetts with Ted Sannella at the Girl Scout House in Concord and Roger Whynot in Belmont.

In the 1950's Roger Whynot began square dance calling in Milton, Queens County, Nova Scotia. He contacted the Department of Education, and Maurice Hennigar, who called in Dartmouth and was a school principal, went to Milton and put on a five day seminar of square dancing for youths and adults. After the seminar, Roger and his wife, Phyllis, formed the Jolly Roger Dancers (they danced from 1954 until 2001). Roger moved to the United States in 1969. My husband and I accompanied my parents to his dances in Belmont where he was calling contras and teaching some modern square dancing.

In 1974 we moved to Nova Scotia and joined a modern square dance club in Halifax. At that time there were several Nova Scotia square dance callers who also called contras as part of their program including John Essex, Brundage MacDonald, and Vern Carmichael. In 1983, our advanced square dance club needed a caller, so I began calling squares and soon added contras to my programs. Our annual Maritime Conventions have always included some time featuring contras so I was soon recruited to participate along with Nelson Labor, Alex Ritchie, Chris Ayres and Ron Lowe.

After joining Callerlab (The International Association of Square Dance Callers) in 1995, I became involved in the Committee for Community and Traditional Dance. This committee organizes an annual Beginner Dance Party Leaders Seminar. While attending the seminar before the Louisville Callerlab Convention in March of 2005, a group of callers attended the local Saturday evening contra dance. Bev Bernbaum of Toronto was calling and during the evening she used a delightful circle mixer by Cis Hinkle. As editor of the Community Dance Journal, I contacted Bev in order to publish the dance. Thus another connection was forged. (These Journals are all available at www.callerlab.org under Documents.)

By 2003 I had been calling contras for twenty years to mostly recorded music and as part of the square dance world. Then the New Times/Old Time Dance in Halifax came to our attention through Dance Nova Scotia's new e-mail listing. In November of 2004 we attended one of these dances and were delighted to find the familiar New England contras of my childhood being danced to live music.



Dave Schlosberg's Story: History of the New Times/Old Time Dances, 1990-2007


The New Times/Old Time (NTOT) dance first started as The Saturday Night Country Dance in the fall of 1990. It was a spin-off group from the weekly International Folk Dances, which were mainly focused on the Balkan countries. Through the 1980's, these folk dances had included some contras, waltzes, and polkas. Something had to give! It was too much variety to pack into one night of dancing. Therefore, a sub-group started up, with many of the International folk dancers and peripheral friends. It ran once per month and included English Country, New England contras, a smidgeon of Irish, Scottish and Welsh, and some old-time waltzes, polkas, schottisches and British versions of tango. There were even a Polish Kujawiak and a couple of Czech polkas. In the fall of 1993, the event became known as the New Times/Old Time Dance.

During that first year recorded music was used, but the search was on for live music. The group had a succession of bands: Great Blue Heron, with popular local musicians including Ronnie MacEachern and Bill Plaskett; The Snow Monkeys (a band from the Shambala Centre); and then Gordon Stobbe and friends, starting in 1995 and continuing through to the final dance in May, 2007. By then, Joe Pratt was sometimes filling in for Gordon, who was often out of town due to developments in his own music career. Gordon's versatility and geniality helped greatly, through those years.

Dave Schlosberg called the dances. He had cut his teeth running set dances in Pictou County between 1975-1981, and he attended contra dances in Boston off and on through the 1980's. Jane Schlosberg taught most of the partner dances and often prompted the longways sets. They and the Folkdancers' Association of Nova Scotia (the sponsoring group) got a wonderful boost when Marianne Taylor came down (yes, "down", for sailors we are down wind) from Boston in the fall of 1991 to give a workshop in longways and contras. All through the years, attendance varied unpredictably between 15 and 55, probably averaging about 28.

As the 1990's came to a close, many of the original group faded away and were replaced by less skilled dancers. As a result, the European partner dances left the repertoire, except for the waltz. The dances became almost exclusively longways and contras, with a few western Canadian and Quebecois set dances and an occasional novelty dance.

In the fall of 2005, Eldon Cooper and Dottie Welch started to contribute to the choice and calling of the dances. Eldon had recently moved from Ontario, where he had his own popular longways and contra group. Dottie was already one of the premier square dance callers of the Metro area; and she had been involved with contra dancing all the way back to her childhood in New England. For the next year and a half, Dottie and Eldon energized the group greatly. However, by May 2007, due to various health problems and Gordon Stobbe's career developments outside of the province, the NTOT came to an end.

Fortunately, Dottie started a new sequence called the Contra Time Dances, and a younger crowd started up the Smokin' Contra Dances (which is now known as Halifax Contra Dances). These two groups have kept the contra dance scene hopping in Halifax ever since.



Dottie's Story Continues: Contra Time Dances


Since January of 2008, we have held a Contra Time Dance about once a month from October to May. Our musicians are usually Joe Pratt on the fiddle and Skip Holmes on guitar or banjo, but we have welcomed several other excellent musicians when needed or possible. A typical evening includes mixers, contras of various kinds, one English Country dance, and waltzes. Attendance averages about twenty dancers who are a mix of dedicated contra dancers from the NTOT days, modern square dancers, new recruits and beginners. Our schedule is available here and at www.squaredance.ns.ca in the Calendar of Events.

Being delighted to see a second and younger group of contra dancers, those of us with calling experience have shared our knowledge with the newer callers through several workshops and personal mentoring sessions. In turn, I continue to benefit from opportunities to call at and dance to other callers at Canadian and U.S. Nationals. I particularly enjoyed the contra hall at the 60th U.S. National Square Dance Convention in Detroit (June 2011). It was organized by Glen and Judy Morningstar and featured a different live orchestra (hammered dulcimer included) for each evening dance. The local leaders, musicians and dancers shared their memories of dancing in Henry Ford's Lovett Hall in Dearborn, Michigan (the hall's 75th Anniversary is 2012).

Contra dancing is an evolving form of folk dance with new dances frequently being created. As a modern square dance caller who creates choreography on the fly and writes singing call figures for each of the Callerlab programs from Basic to Challenge, creating new contra dances is just one more choreographic puzzle. See the Contra Choreography section of this website for some of my creations or modifications.